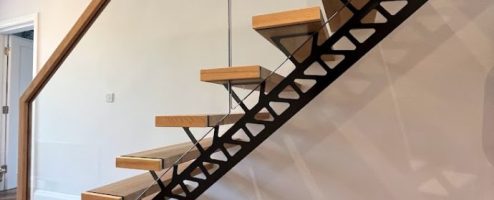 We are excited to show our latest finished floating stairs. This staircase is made from solid oak and features a glass balustrade and laser cut metal support. The open design of the staircase makes it appear to float in mid-air, creating a sense of spaciousness and airiness. The glass balustrade adds a touch of glamour and refinement.
The staircase is located in a modern home in Co Kildare. The homeowners wanted a staircase that would complement the contemporary style of their home. The floating staircase is the perfect solution, as it is both stylish and functional.
The staircase is easy to maintain and clean. The oak is a durable wood that can withstand years of use. The glass balustrade is also easy to clean and maintain.
We are proud of the work we did on this project. The staircase is a beautiful addition to the home and we are confident that the homeowners will enjoy it for many years to come.
If you are interested in learning more about our floating staircases, please contact us today. We would be happy to discuss your project and help you choose the perfect staircase for your home.
#floatingstairs #oakstairs #glassbalustrade #modernhome #dublin #ireland #stairs #interiordesign #homedecor
Look at us on instagram