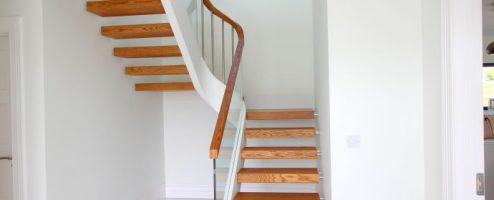 Simple Modern Staircase Design
A modern open tread stairs is our staircase pick of the week, completed by JEA stairs some time ago is still one of our favourite staircase designs. This staircase has a curved string with glass and stainless steel balustrade. Because this modern staircase has open treads it lets lot of light shine throughout the entrance hall.
If you are looking for a new staircase please contact us and we will be happy to discuss your staircase plans and designs.
If you like our pick of the week staircase – a modern open tread stairs, please call us with details of your project.
Because this has open tread and has a glass and stainless steel balustrade we think it gives a very polished and modern look.
We will be happy to design an equally fabulous stairs to your specific requirements. Email us with your plans and we will be happy to help you with design ideas. A staircase is as important as your funiture in your home.
Look at Stairs by JEA for more ideas on design. If a modern staircase isn't for you we have plenty of traditional designs also.
For more ideas and pictures follow us on instagram