Strings are the structural members of a staircase which run longitudinally from top to bottom. Generally, they are at the sides of a staircase and provide the main structural strength of the staircase.
TYPES OF STRING
STANDARD STRING
CUT STRING
INVERTED CUT STRING
MONO STRING
STRINGLESS (CANTILEVER TYPE)
STANDARD STRING
Standard Strings can be used in conjunction with all types of Treads and Risers allowing a variety of styles to be achieved, from traditional through to modern.
CUT STRING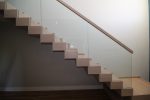 Cut Strings allow the profile of the Treads and Risers to be seen from the side of the staircase. Depending on style of tread and riser used, both classic and contemporary styles can be achieved.
INVERTED CUT STRING
This is a modern twist on the cut string style.
MONO STRING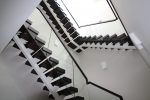 This modern style stairs can be constructed in both timber and steel.
STRINGLESS OR CANTILEVERD
Also known as floating stairs or floating tread staircases, these modern designs are the ultimate in minimalist construction.
To collaborate on ideas with us check out our Houzz profile.
Keep up to date with all our projects twitter.
For more inspiration, check out our stair types.
Interested? Request a quote or submit a query.