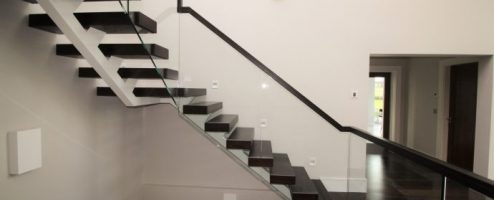 If you are building a new house, give consideration to the staircase at the beginning of the design process.  Our clients in Co. Kildare have achieved an outstanding result with this modern staircase, designed and installed by JEA.  Consultation with your Staircase designer and architect should begin as soon as possible.
Modern Staircase – Mono String Spine Stairs
This mono string spine stairs in Co. Kildare is a modern design.  The 3 storey staircase required a lot of space, and has given the entrance hall a very chic result. The open tread gives light to the lower level of the house.  Clever and beautiful design.
Floating Balustrade
The Glass floating Balustrade fits perfectly into the design.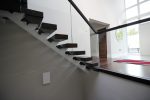 For more inspiration, check out our stair types.
Interested? Request a quote or submit a query.