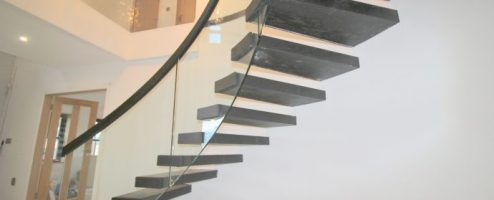 Glass Stairs
Incorporating glass into a bespoke staircase is becoming very popular.  Cantilevered stairs finished with a glass balustrade give a very modern and light filled finish to your stair design.  Choose a straight or curved stairs and the effect is stunning.  Take a look at some options for a glass stairs, to help you decide upon your staircase design.  We have lots of staircase ideas.
Glass balustrade
Glass Treads
To add even more light and and stunning effect  consider glass treads to acheive the stunning Glass Stairs you require.
Glass Risers
If you prefer not to have an open tread staircase but still would like light bursting through your bespoke stairs consider a Glass Riser and achieve the overall effect of space, light and exquisite design.
Glass Balconies
Add extra light to your staircase design with a glass balcony.
If you are interested in any of our staircase designs or would like to discuss your staircase ideas please contact us at:   https://www.stairsireland.ie/contact/