Budget Staircases
In these recessionary times, generally the first consideration when specifying your stairs is "how much will it cost". There's no getting away from the fact that a feature staircase normally involves a considerable outlay. The main reasons for this are the fact that a custom staircase is in effect a very large bespoke piece of fitted furniture, which does not, by it's unique nature, lend itself to mass production. In addition to this if expensive materials are selected like hardwoods, specialist glass, stainless steel etc. the size of a large staircase means there is considerable cost incurred before design and manufacture even begin. The aim of this post is to show how, by clever design it is possible to reduce the cost of a large feature staircase, without making it look cheap. The first thing to look when trying to reduce costs is the materials , there is no point in trying to make a inexpensive staircase when the design requires six thousand euros of materials. Sometimes a small amount of hardwood combined with a paint finish is enough raise an ordinary basic stairs to a higher level. Here a plain pine painted stairs with the addition of stained oak handrail and newel caps achieves a luxury feel at minimum cost.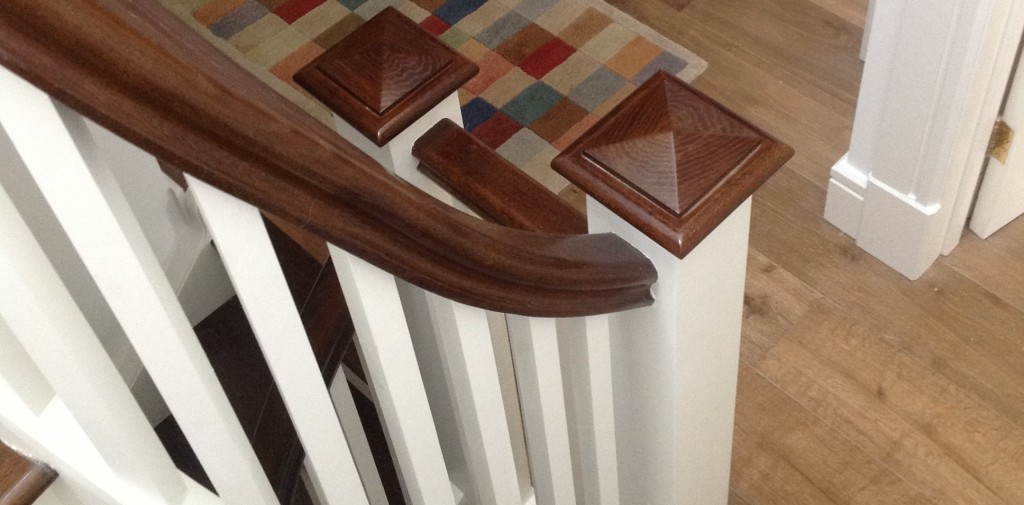 The next consideration is design of the actual stairs. A lot of customers are aiming for a modern minimalist look, this should, you would think, be less costly than an elaborate intricate design, but what often happens is that in striving for the ultimate clean pared back look expensive solutions are used, like cantilevered floating treads which require complicated super strong support structures or self supporting glass balustrade which, because of the thickness required, is an expensive material.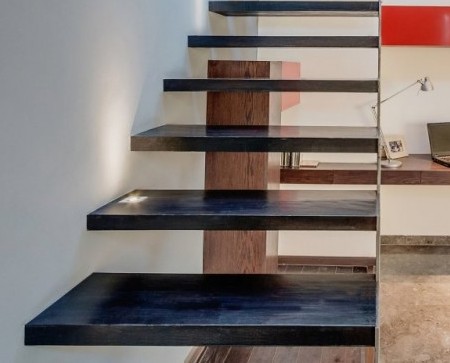 Slimline Floating Tread
Here the use of a simple mild steel slimline string combined with stained laminated oak treads achieves a light floating effect at a fraction of the cost of a fully cantilevered stairs. I hope these examples show how budget staircases can still be special staircases.