Floating Hardwood Stairs in the UK and Ireland
Floating Hardwood Stairs have become very fashionable, due to the fact that they can look great in most homes of different design.  At JEA we design and manufacture staircases which we are sure will become a timeless classics in your home.  JEA Stairs aims for every client of ours to achieve the Feature staircase of their dreams.  Matching a Bespoke staircase with individual interiors can be a difficult decision, therefore JEA  are here to suggest designs and materials  you may not have considered, and at all times keeping your particular needs in mind.  We know that a  Feature Staircase is achievable in many settings and using all types of budgets.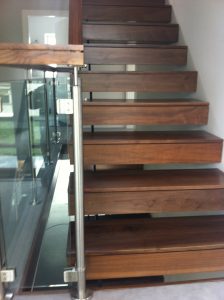 Servicing Ireland and the UK
JEA Stairs offers design, manufacture and installation to all parts of Ireland, from Donegal to Cork and Kerry, Dublin to Galway Limerick and the midlands.
We also offer a complete service in the UK and Europe.
Stairs with Glass Panel and Balustrades offers a very modern/contemporary finish.