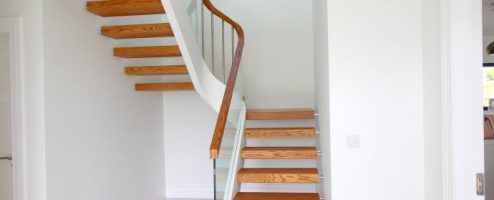 Simple Modern Staircase Design
Our clients were unsure of what design they wanted.  After careful consideration of the overall house design, a Simple Modern Staircase Design was agreed upon.  We think the result was a success.
Please contact us for more information on stairs in Ireland and the UK
Open Rise Curved String Stairs
This has open rise oak treads.  A curved string and freestanding glass balustrade is a design feature that gives an overall look of sophistication.  This house is modern and uncluttered, this modern staircase fits perfectly into the minimalistic interior design.
Free Standing Glass Balustrade
The Glass balustrade and balcony allow light to flow naturally into the bright rooms.
Curved String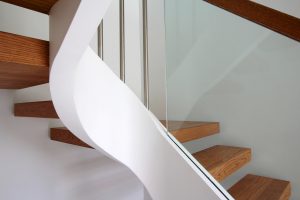 Carefully designed features create the overall look that our clients were looking for.
Oak Tread
If you would like to see some more of our Irish Stair Designs please look at our gallery.  Jea Stairs designing and building stairs throughout Ireland and the UK.
For more design ideas check out our profile on  Houzz